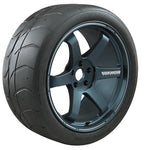 Yes!  The track season is finally upon us, but did you get your track tires yet?
We can get you ready! 
We have many track tires available, from the venerable Hankook RS4 "does everything well", to the old reliable Nitto NT-01 R-compound, and the new contenders like the Nankang AR1 and Maxxis RC1.
And if you need wheels, we can find the right ones for you.
Let us know your size and we'll set you up!
Call us at 613-763-0011 or message us for pricing and to set up your appointments.