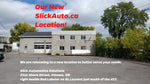 Yes, we are moving!
We wanted to serve you better, with the same quality you have expected from us, and this new location will provide us with a larger shop space, a great lot and quick access to/from the highway.
Unfortunately we need to close for about a week starting this coming Monday so we can move our equipment and setup our new space, but we plan to be open at the updated shop by October 1st or a bit before!
The new address will be 2321 Shore St, beside the Red Lobster on St.Laurent, for easy access from the highway, St.Laurent or Innes.
See you there soon!
To contact us, you can still reach us via the shop number at 613-763-0011 and via our webform here: https://www.slickautosolutions.com/pages/contact-us