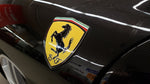 Here is the 1MoreLap Supercar program Ferrari F430 that we detailed earlier this week. 
We wanted to prep it for the Ottawa Auto Show which has been cancelled (postponed), but also to protect it against the harsh conditions this car will see while driven at Calabogie Motorsports Park or on road tours in the Ottawa area.
We started with an interior detail to make it spotless for customers to enjoy the in-car experience, and then detailed the engine bay as it is highly visible under the rear glass hatch and a piece of visual eye-candy as well.
Then we took care of the exterior the same way we tackle any of our ceramic coating projects.
Hand wash using ONR rinseless wash, safest method to wash your vehicle.
Decontamination wash using chemicals like our automotive-grade all purpose cleaner to strip any waxes, and iron removal for brake dust removal, plus claying all painted surfaces.
Polish all painted areas, plus lenses.  Most vehicles get a single-stage polish, this supercar had overall great paint but some scratches were visible and not light, so we opted for a 2-stage cut and polish for defect removal and highest gloss.
For protection, we applied OptiCoat Pro Plus permanent ceramic coating to all exterior painted surfaces & lenses plus we thoroughly cleaned and coated the beautiful 5-spoke wheels and brake calipers.
To rent this magnificent steed, look up 1morelap.ca for details on getting behind the wheel.
| | |
| --- | --- |
|   | |
| | |
| | |
| | |