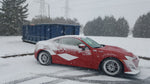 Sliding around today?
Slick has you covered with access to winter tires in all major brands, with competitive pricing and incredible service. 
From the new Continental VikingContact7, Toyo Observe Gsi6-HP, Yokohama IceGuard IG53 or G075, to Bridgestone's new Blizzak WS90, we can set you up with top-quality tires best suited to your specific needs.