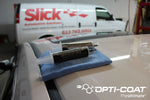 We completed this project using the Optimum synergy of products!
This weeks-old 2016 Honda Civic Sedan received the full Optimum treatment, completing with Opti-Coat Pro Plus ceramic clear coating!
We started with a pre-wash foam rinse and ONR wash, followed by iron decontamination with Ferrex, then remaining surface contaminants removed with the Optimum clay towel.
Although this vehicle was new from the dealer, there was still considerable contamination on the paint especially on horizontal surfaces such as the hood, roof, trunk and upper areas of doors and fenders.  This is the case for almost all new cars as delivered from dealers!
Once cleaned, we prepared for the Opti-Coat coating with a machine polish of all painted areas.
Opti-Coat Pro was applied followed by the second layer of Opti-Coat Pro Plus for additional protection and gloss.  Since this vehicle would be delivered into the winter elements, Opti-Seal was then applied over all areas before delivery including the steel wheels, with tires dressed in Optimum tire dressing.
Check out our photo log below and our Opti-Coat info page here:
Inside from winter elements
Foam bath pre-rinse
Some rail-dust (iron contamination) chemically removed (purple streaks)
Clean and ready for polishing
Opti-Coat Pro and Pro Plus applied
Final inspection
Even chrome areas and plastic are protected with Opti-Coat!
Ready for customer pick up!